Pandemic Response Solutions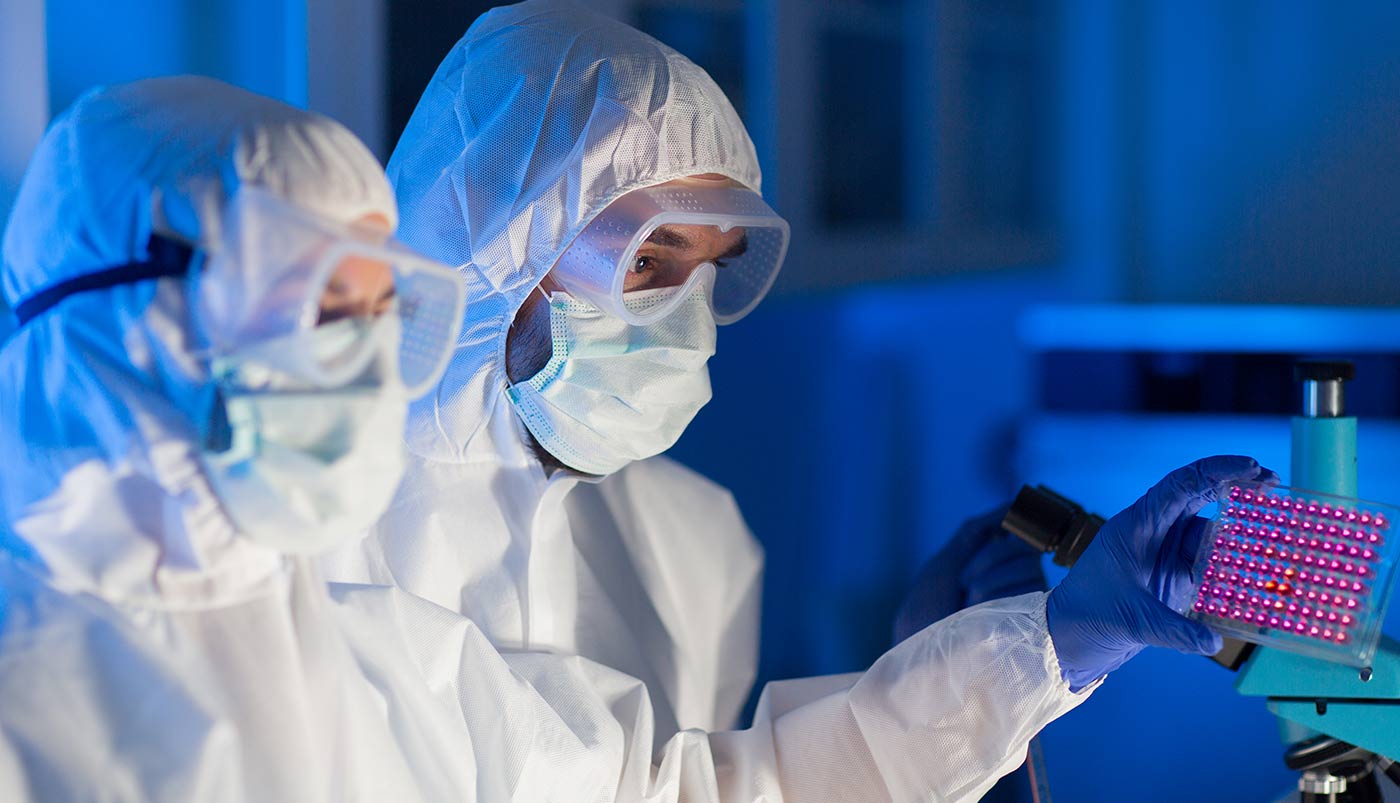 We believe in manufacturing innovative, cutting-edge cleanroom supplies that will lower your costs.
Our line of products includes custom and private label cleanroom supplies, ranges from cleanroom wipes and cleanroom gloves, sticky floor mats to disposable cleanroom garments and SMT cleaning rolls. Our focus is on providing high quality products that have been designed and manufactured to serve the exacting needs of our customers. Our company is continuously expanding and diversifying to meet the specifications for cleanroom supplies across a number of industries.
Make A Fist, See For Yourself
Increased body temperatures spreads to t he skin via blood circulation. The skin surface of the hand, due to exposed high arterial flow, responds easily and steadily to changes in mean body temperature. Results are repeatable and steady with +/- 0.5 degrees.
Try it yourself. Make a fist. You can clearly see the arteries in the hand leading to the fingers. The closeness of these arteries to the skin wall makes this area ideal for self-scanning and produces excellent results across a vast majority of the population.
Why the Wrist Beats the Head in Temperature Scanning
Virtually no perspiration vs. heavy perspiration of forehead which interferes with thermal scanning
Reduced hair on wrist/fist vs. possible hair interfering with forehead thermal scanners
No makeup on wrist/fist vs. eye and skin makeup on head thermal scanning
No interference by hats and face covering, which is commonplace with head thermal scanning
Easy self-serving without danger of personnel exposure prior to results
WIPES

Wipes for Cleanroom, Laboratory, Industrial, and Sterile Applications. Dry & Presaturated. Materials include Polyester, Nonwoven Poly-Cellulose, Cotton, and Microfiber. Custom and Private Label Options Available.

TACKY MATS

Sticky floor mats offered in a variety of colors and sizes. These multi-layered adhesive mats are designed to remove dirt and other particles from foot and wheel traffic upon entering a cleanroom. Custom logo & private label options Tacky Traxx Mats also available.

STENCIL WIPING ROLLS

ESD-Safe Green Monster Stencil Wiping Rolls for DEK, MPM (Speedline), FUJI, EKRA, and Panasonic SMT Printers. These rolls reduce damage to equipment, defects, bridges, blocked apertures, low transfer efficiency, and solder contamination.

CLEANROOM GARMENTS

Aprons, Beard Covers, Bouffant Covers, Boot & Shoe Covers, Coveralls, Lab Coats, Facemasks, Sleeves, and Hoods. We stock protective apparel for a variety of cleanroom and industrial applications.

DISPOSABLE GLOVES

Bee-Safe Class 100 Cleanroom Nitrile Gloves ideal for a variety of applications including Cleanroom, Lab, and Industrial. Available in 12″ length for extra protection.

TACKY ROLLERS

Tacky Rollers are designed to remove particulate from flat and slightly textured surfaces within the cleanroom including floors, ceilings, and walls. Available in film or foam options.
Checks all the right boxes for temperature screening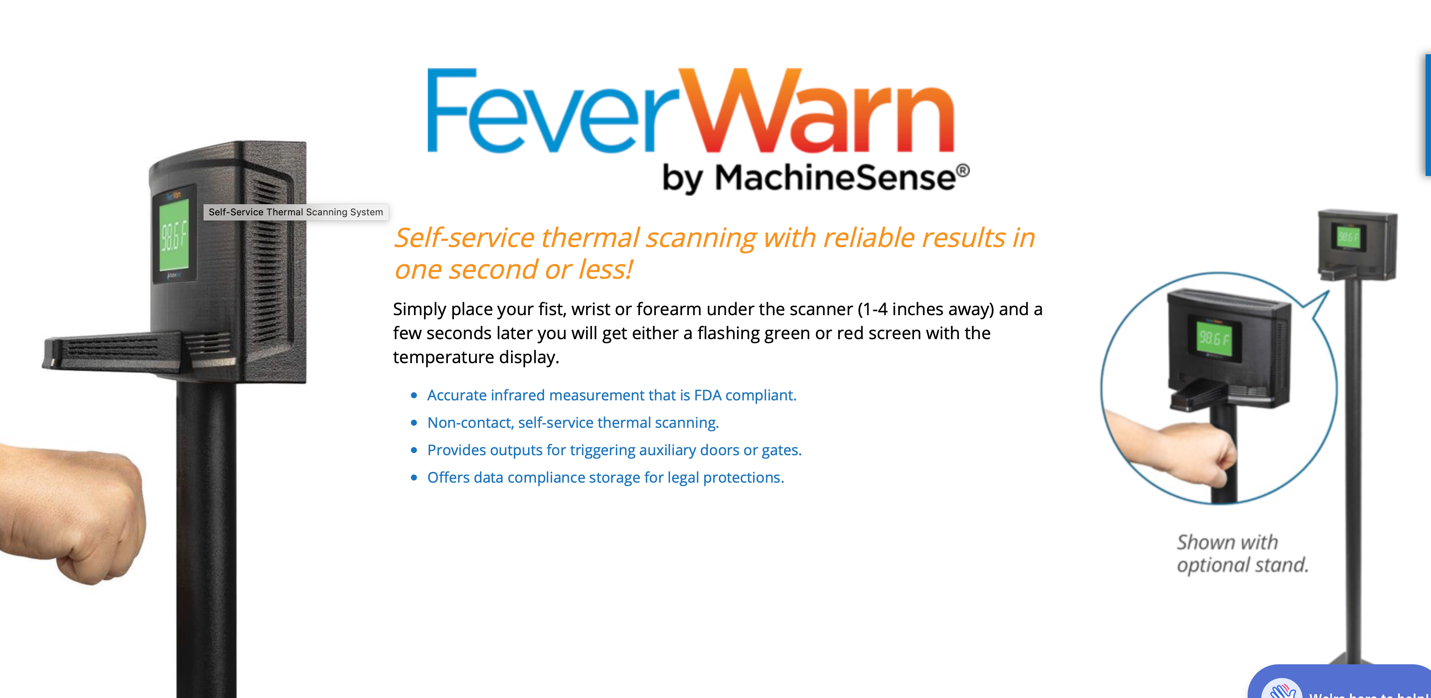 FeverWarn measures the accurate temperature of individuals through their fist in 3-5 seconds, and in an orderly manner allowing for the recommended six feet of social distancing. The National Institute of Health has named the fist as a viable option for conducting a temperature check.
FDA compliant thermal scanning
Accuracy to +/-0.9°F
Self-servicing, no human intervention required
Data reporting to shield from future liability
Auxiliary USB outputs for card readers, doors and gates
Designed, built and shipped in the USA
Reasonably priced
So Much More than a Thermal Temperature Scanner...
FeverWarn is Your Expert Witness for Ongoing Compliance Reporting
With CDC's recommendations to monitor employee health and take measures to protect your employees. Compliance data backups and full reporting are an important part of avoiding future workman's compensation or liability claims.
Legal experts claim that following all CDC recommendations and being able to prove such will help insulate you against legal claims.
Most handheld thermal scanners and even many thermal scanning systems have no way of retaining data or generating visual reporting.
FeverWarn Data Thermal Scanner Storage Options
100 Series: Local on board storage with 16GB storage for up to 20 million scans. Can be exported into CSV format for manipulation. Phone visualization for daily scans.
200 Series: Local and cloud storage available through Microsoft Azure. Visualization available for up to 6 months of data. CSV reports available for download. Also includes microservices for email and text alerts.
Local Cloud: If the use of an outside cloud such as Microsoft Azure is objectionable, users can easily configure their own local cloud storage to keep everything on premise.
Feverwarn offers legal liability coverage, including: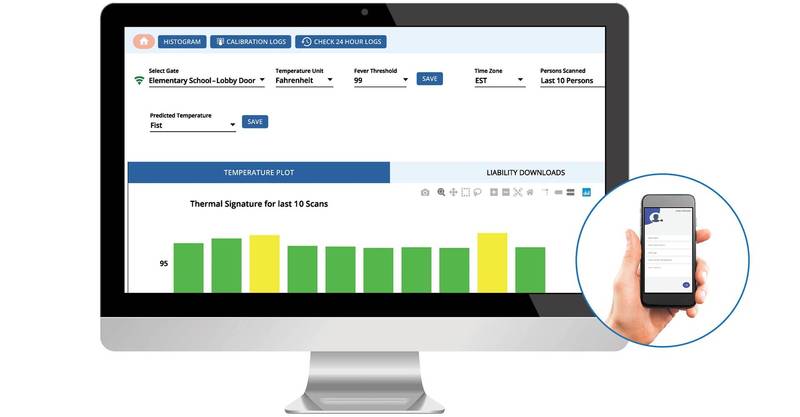 Storage of scanned temperature data
Storage of calibration logs confirming valid calibration
All data from visitor waiver form (Users can use FeverWarn visitor waiver mobile app where all stored data can be downloaded from the cloud or local storage.)
FeverWarn offers either local storage (for up to 20 million scans) which is downloadable to a smart device for CSV file handling or cloud storage depending on model specified.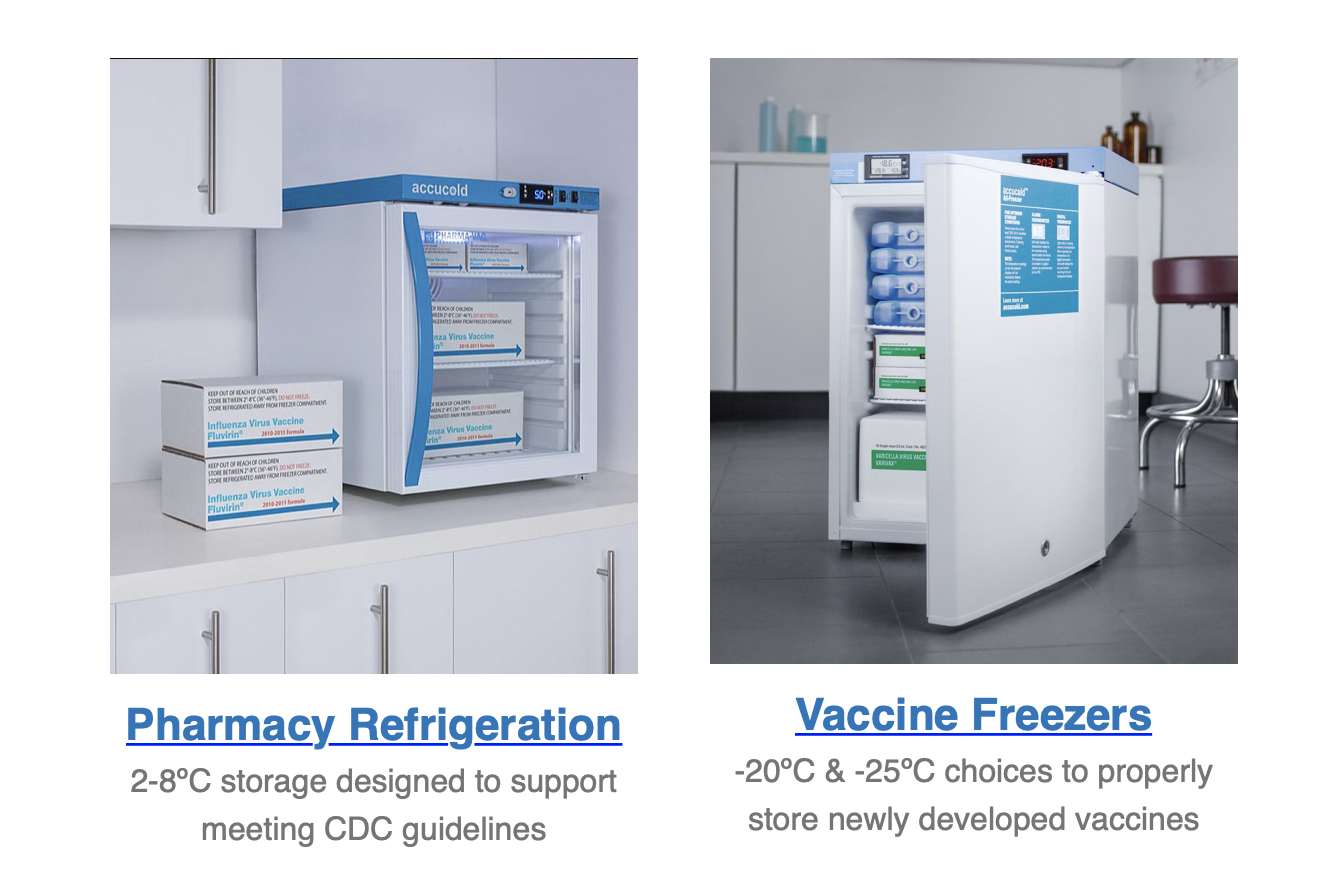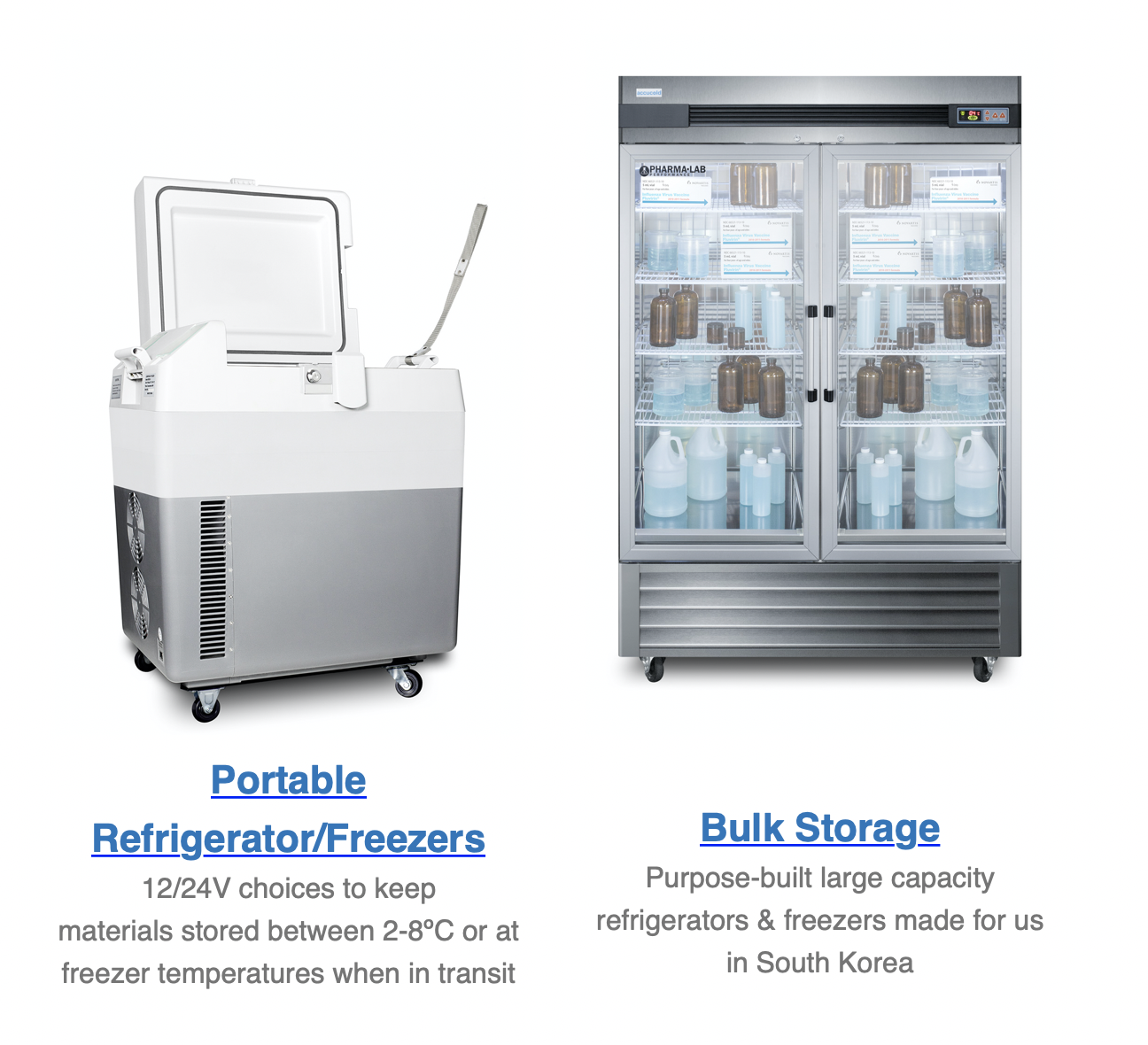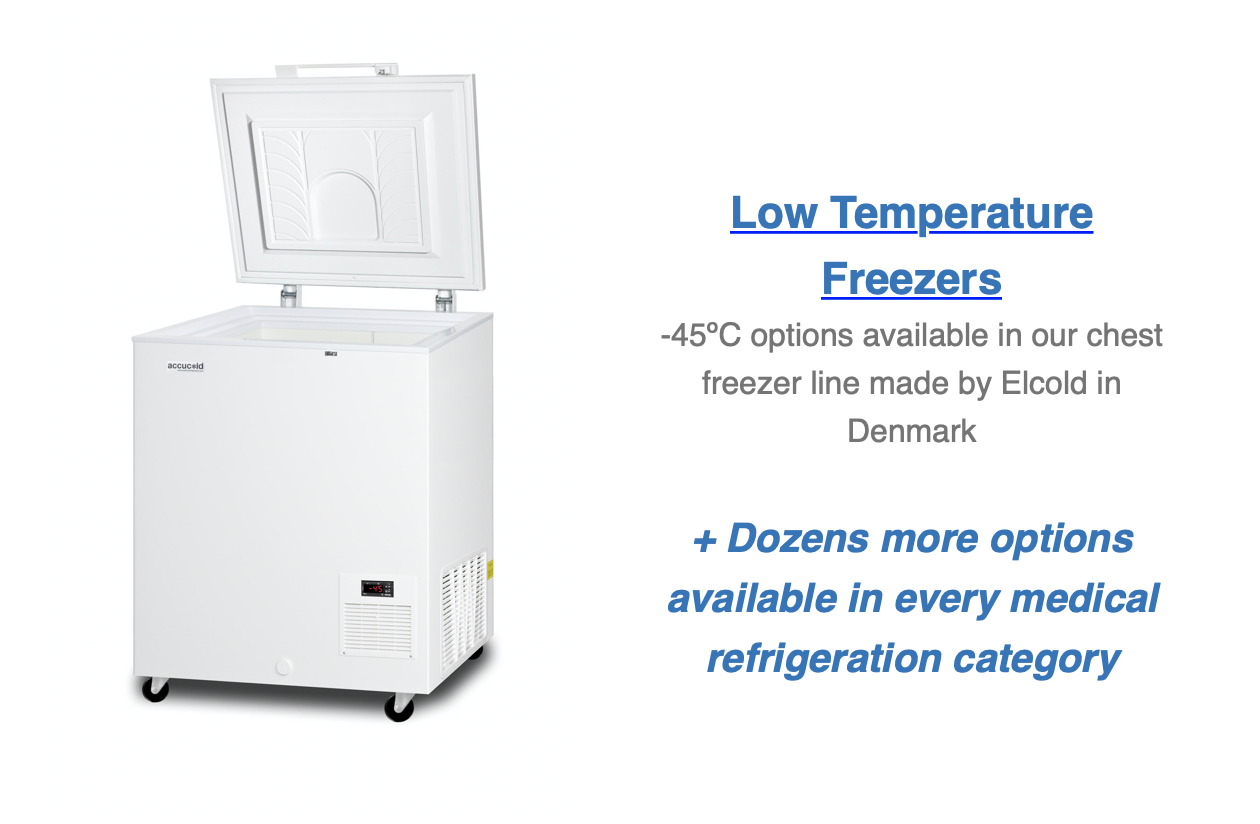 ASK ABOUT OUR FULL LINE OF PRODUCTS