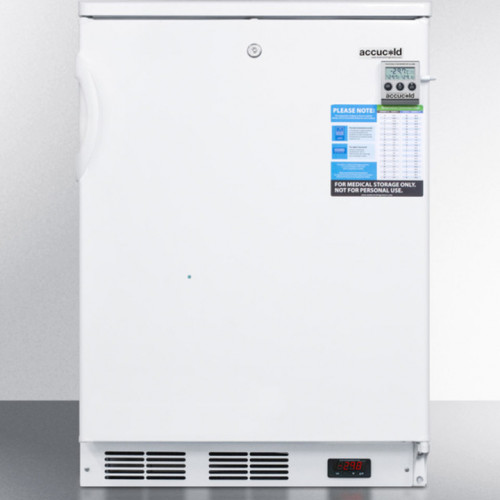 -30ºC, -35ºC, & -45ºC Low Temperature Freezers
Accucold's extensive line of low temperature freezers are available in a wide range of sizes, all with the product features most requested by the laboratory and medical industry. From compact front-opening choices to full capacity chest freezers, we offer a quality selection to meet the specific needs of research laboratories, hospitals, pharmacies, veterinary offices, medical clinics, and other facilities with high demands for stable, low temperature storage.
Solid Construction & Smart Design
All Accucold extra low temperature freezers are manual defrost, with no fans or defrost heaters to ensure stabilized cooling. Each is equipped with a digital thermostat for more precise temperature management. Units in our -30º and -35ºC series include a NIST calibrated high/low temperature alarm and corner protectors for added durability. Our -45ºC series of ultra low temperature freezers are made for us by ElCold in Denmark. The 4 ½" thick walls offer efficient insulation. These units are UL-S listed to NSF commercial sanitation standards.
-25ºC Choices
In addition to our low temperature freezers, Accucold also carries a quality line of -25ºC front-opening 24" wide all-freezers. Made in Europe, the VT65M series includes built-in, freestanding, ADA compliant, and commercially listed choices. All models are available in white or stainless steel with several handle style choices. We carry a matching 24" set of auto defrost all-refrigerators, which can be paired side-by-side or stacked with the VT65M options.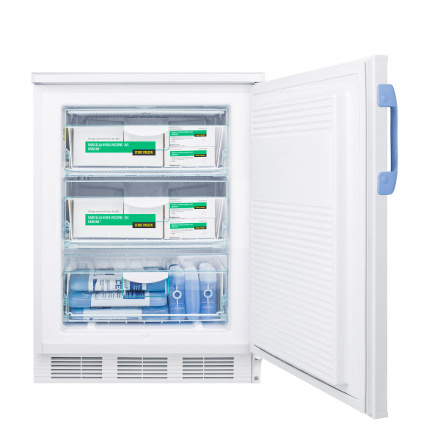 Interested in Learning More?
Fill in your information below to speak with our specialists.