What is Ultraviolet Disinfection?
UV disinfection is a broad-spectrum, non-chemical disinfection technology used in commercial, industrial, and healthcare settings for the inactivation of microorganism. UV disinfection is generated in special UV lamps. A watertight quartz tube surrounds each lamp. The liquid to be disinfected is passed through the quartz tubing where gas plasma generated in the lamp emits intensive UV light. When microorganisms are exposed to the germicidal wavelength of UV light, their cellular DNA and RNA absorbs the wavelengths, thereby damaging their nucleic acid. This modifies the DNA of the microorganisms to be unable to divide and reproduce, thus rendering it inactive. UV provides rapid inactivation of bacteria, viruses, yeasts, and molds.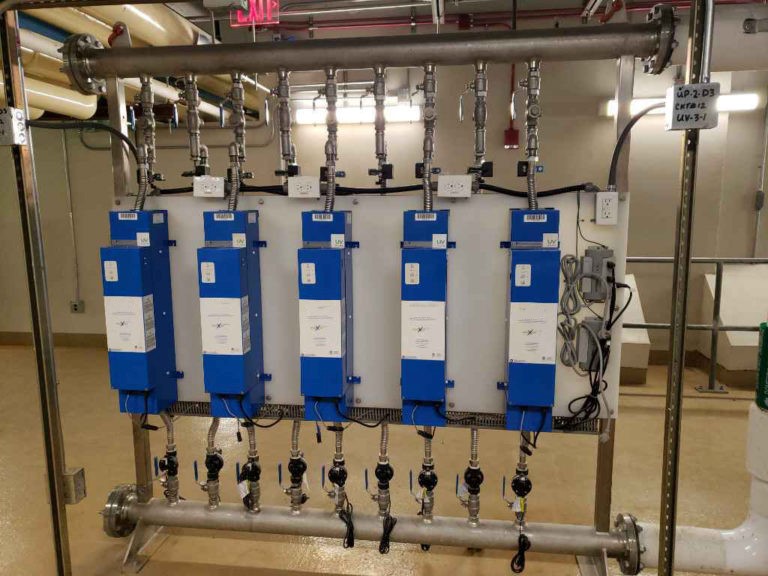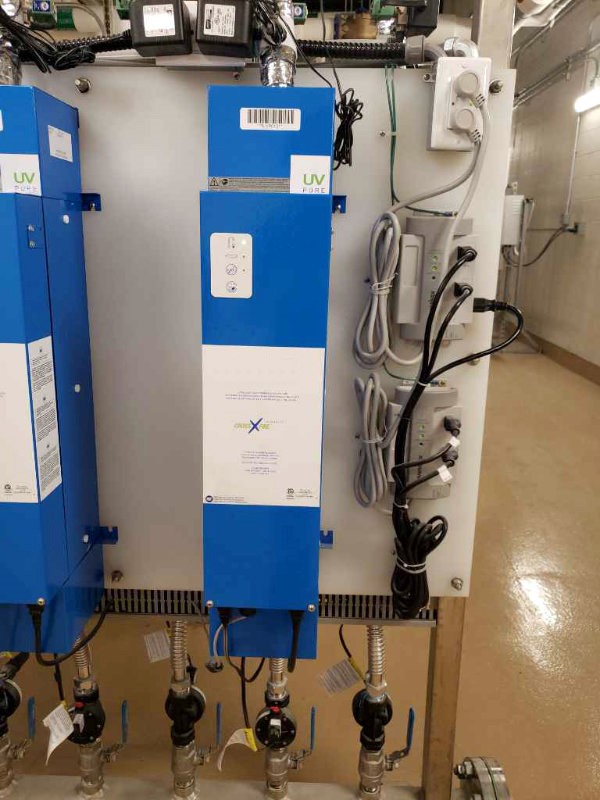 Why Ultraviolet Disinfection?
Advanced UV systems are the first line of defense against harmful bacteria in your incoming water. UV disinfection inactivates the broadest spectrum of microorganisms, including cysts like Giardia and Cryptosporidium, and viruses and bacteria such as Mycobacteria, Pseudomonas, and Legionella. UV disinfection of drinking water destroys harmful microorganisms, including cysts, viruses, and bacteria and is energy efficient with minimal maintenance.
HOW IT WORKS
Our ultraviolet disinfection system incorporates two proprietary high-output UV lamps, with elliptical reflectors that target pathogens with radiation from 254nm applied 360° through the water. Our system uses dual smart UV sensors mounted in air, which cannot foul. The air-cooled lamps maintain consistent levels of UV output. We also integrate computerized alarms and an auto shutoff, fail-safe valve that ensures only safe water can enter your water system. A stainless steel wiper is used to clean the inside of the quartz sleeve, thereby eliminating quartz fouling and the need for a water softener. Through our comprehensive approach to water safety, we deliver safe water.
Features and Benefits
Efficiency

Validated to reduce pathogens to safe levels—minimum of 99.99% reduction and effective in water 10 times harder than conventional UV systems.

Fail-safe and risk-free

Digital monitor, visual and audible alarms, event notifications, on-board data logging, self-diagnostic troubleshooting logic and more.

Low operation cost

Virtually maintenance free, low operating costs, and easy to install.

Self-cleaning

Stainless steel patented automatic wiper-blade system keeps quartz free from scaling or biofilm.
Interested in Learning More?
Fill in your information below to speak with our specialists.